Too much time on my hands

Joined: Sun Jun 03, 2007 5:11 pm
Posts: 1027
Location: New Jersey


Re: Friction: Inferno vs. Spike vs. Kermit
"Do you have any inkling what you just did? Do you even understand the ramifications of what you've done?"

"Of course I do," Inferno growled, staring at Stern through those unblinking cat eyes.

"You've ruined an Aftershock championship match. You realise how much you've screwed over TCW by doing this? JE was supposed to-"

"Best laid plans..." Inferno said. "Guess that didn't happen, now did it? Whatever plan you had, I don't give a damn who you wanted to be champion."

"Why make Izumi champion? She doesn't deserve that title. The fans aren't going to look upon it with a shred of legitimacy..."

"I have my reasons," Inferno said. "I do what I want. You don't like it, go kill yourself. I don't have to listen to you talk shit to me. Like I'd be real afraid of the cute little redhead." He shoved her back with a gentle nudge.

"You...!"

"And I think Deng knows where I'm coming from. I'm going to be enjoying my stay here in TCW, once again."

"Why'd you come back, anyway? What the fuck do you want from us?"

"I don't have to tell you anything, but I'll humor you. I'm looking for something. That's all you need to know."

Inferno stepped away from Valerie, and started to pace. "I suppose I can assure you one thing though: I'm different from before. I'm a bit of a...changed man, so to speak. That said...don't get in my way, and I'll try not to permenantly cripple your wrestlers. Understand?"

"I won't let you walk all over the roster," Valerie said.

Inferno just ignored her. "What's my first match?"

"You don't deserve one. People who break the rules get punished..."

Inferno stared at her. Valerie finished.

"...but Deng's booked you against Spike and Kermit. I wanted to put you against Duo, but Deng insisted on Kermit."

"...Works for me. Valerie, I'll end with this-"

"It's Commissioner Stern by the way. I don't own the company any more, but I at least haven't lost my fucking title."

"Whatever. In any case, someday, you might learn to like me."

"I doubt it."

"You'd be surprised."

With that, he left Stern's office.

And Spike was waiting for him...
_________________
-Updated on July 19th, 2009!
-Updated on July 29th, 2008
http://forums.thesmartmarks.com
-My favorite smart wrestling site.
CM Punk: Your WORLD HEAVYWEIGHT CHAMPION!
Too much time on my hands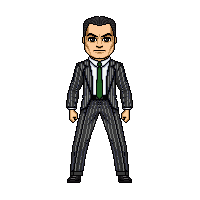 Joined: Wed Apr 26, 2006 4:52 am
Posts: 1107
Location: Arizona


Re: Friction: Inferno vs. Spike vs. Kermit
A brief flash of light gives way to a map of the world made up with dots of blue and other colors. The words Larry King Live appear on screen next to an old style radio microphone as a voice America has become familiar with over the past 20 years begins to speak.

"My guest tonight has been called many things over the years. From businessman to mafia gangster, philanthropist to arms dealer, and even professional wrestler, and all titles others have given him. Tonight, Kermit Gambono sits down with me to discuss these issues and more on Larry King Live."

The camera cuts to a well known newscaster in a quick zoom. Larry King, with his trademark suspenders, hunches over the desk to address the camera.

"Hello and welcome to Larry King Live, broadcasting to you tonight live from Chicago, Illinois. And with me tonight is a man who had made headlines in this great city, Mr. Kermit Gambono. Kermit, thank you for joining us tonight."

Kermit sits in a tall, regal pose, a warm smile gracing his clean shaven face. Gone is his normal pinstripe suit and fedora hat, replaced now with a sleek coal black suit. Only a deep green tie represents his old style of dress.

"It's an honor to be here Larry, thank you."

"Right to business, recently you made the front page of the Chicago Sun-Times and the Chicago Tribune with the unveiling of the Gambono Cancer Treatment Wing of John H. Stroger, Jr. Hospital of Cook County. Tell us about that."

"Well Larry, to be fair, the Gambono Cancer Treatment Wing was more of a group effort than solely my doing. It took the combine efforts of the city of Chicago up to and including Mayor Daley, the Board of Directors at John Stroger Hospital, and the Board of Henson Industries to make it happen. I just spearheaded the endeavor and am the face of the entire operation. Plenty of other individuals did more than me."

"But one could say that without the press conferences you lead, this deal wouldn't have happened correct?"

Kermit smiles sheepishly.

"Perhaps, but I just want to let the people know that my involvement was small compared to others."

"Now Kermit, this deal was not very popular when it was first announced right?"

"That is right."

"Rumors of you having ties to organized crime, several of which name you as a sort of Don within Chicago, cropped up in the early stages of this operation. What do you say to these accusations?"

Kermit's smile fades, as concern etches his face. He pauses a moment before answering.

"About all I can say on that Larry, is what I said during the proposal and even before it. In fact, I think I've been saying it all of my adult life. Here I am a successful businessman with an Italian last name. The mafia connection is going to be speculated on. Chicago has had a long history with organized crime going back before Al Capone and even up to this day. I think it is unfair, and frankly insulting, to theorize that the success of Henson Industries is influenced by illegal activities. And I would also like to point out, that despite such accusations, I have never been arrested, convicted, or even charged with any involvement in organized crime by both state and local authorities, and even federal authorities."

"Back to the Gambono Wing, word is that you have another announcement regarding this treatment facility."

Kermit's warm smile returns.

"Yes Larry. Thanks to the tireless efforts of our research staff at Henson Medical, lead by the remarkable Dr. Bunson Honeydew I might add, we have developed a new and breakthrough treatment for cancer which will be available at the Gambono Cancer Treatment Wing starting next week."

"A new treatment for cancer? Is it a cure?"

"Regrettably no Larry. Cancer is a difficult condition to find that "magic bullet" for, but we feel this new treatment is a great new step forward in the fight against cancer. It has been very effective in our own case studies, and has far less harmful side effects than existing treatments. Best of all, the treatment is quick, painless, and cheap.

"And how is that?"

"Henson Industries believes that saving lives should not be a profit industry. So we are dedicated to making this treatment affordable and covered by as many health insurance companies as possible."

"Certainly a noble effort Kermit. We'll be right back after the break with more questions for Kermit Gambono."

Fade to black.

-----------------------------------------------------------------

An hour later, Kermit stands outside of the CNN Center in Chicago, his trench coat pulled close around him to fend off the bitterly cold day. He taps his foot impatiently until a long black town car pulls up. With a sigh of relief he heads towards it as the driver steps out to hold open the door.

"Traffic?"

"Yes sir. Accident down the block."

Kermit just nods as he enters and sits in the backseat next to his friend and former Capo Gonzola. Ever since Kermit restructured his organization and removed the more criminal element from it, Gonzola has taken over as the CEO of Henson Industries and found the role fitting for a man of his intelligence and skill. He often jokes to Kermit that being a CEO is no different from being a Capo, just less guns and more cutthroat.

"Interview went well I take it?"

Kermit removes his trench coat, the car's interior being far warmer than the outside air.

"I believe so. I'm just glad the interview junket is over for the time being."
Gonzola chuckles.

"Maybe not. Forbes wants an interview now."

A deep and hearty laugh comes for Kermit.

"That's rich. A year ago when I tried to get them to do a story on Henson Tech they wouldn't return my calls. Now, they are chomping at the bit to sit me down."

"Fuck em?"

Kermit continues to laugh.

"For now. Let them wait it out. Any other calls?"

"Just one for Ms. Stern's secretary. Stern wants a meeting with you when you arrive in China. Contract signing and another "Keep your nose clean" speech I bet."

"Most likely. Speaking of which, is Retribution ready to go?"

Gonzola nods.

"Yes. I managed to get the whole team passports. They all are aware of their roles as your entourage as well."

"Good."

A few moments of silence pass as the town car tried to fight its way through traffic. The cold weather, in addition to the normal hellish traffic congestion downtown Chicago faces, leads to less than cheerful remarks from drivers and pedestrians alike.

"You really are going to go through with this aren't you Kerm?" Gonzola asks, breaking the silence.

"Yes. I've waited long enough."

Gonzola sighs.

"Don't start Gonz. We've discussed this."

"To be fair Kerm, I've discussed it. You've leapt in blindly."

"And they would expect nothing less from me. Gonz, I really appreciate your concern, honestly. But if I keep waiting I will lose focus. Something needs to break."

Gonz mutters softly.

"Let's just hope it's not you."
_________________
When the going gets tough, I get tough henchmen